Home Staging – SE Portland Delight
Stay up to date on the latest trends and helpful tips & tricks!
Highlight your homes best features and guarantee a pool of prospective buyers with these helpful home staging tips!
Staging Design - SE Portland Delight!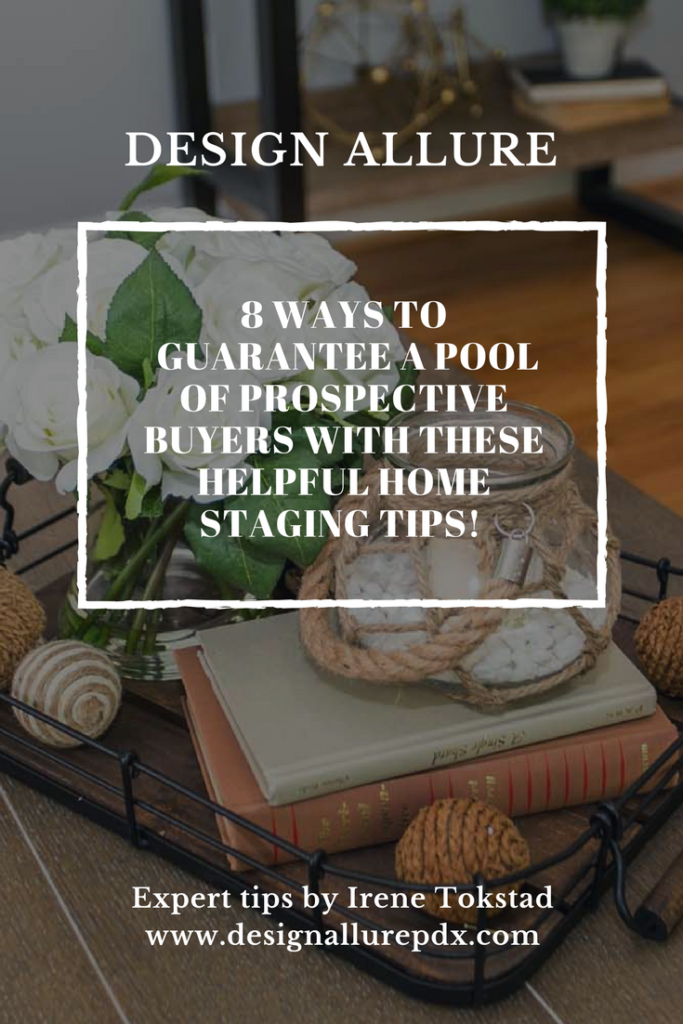 HOME STAGING - SE PORTLAND DELIGHT 
8 Ways to Guarantee a Pool of Prospective Buyers with These Helpful Home Staging Tips & Tricks 
---
Compliments to Jennye Helzer, Realtor & Owner of Red Door Realty  for knocking it out of the park remodeling this beautiful bungalow in SE Portland! It's amazing what a fresh coat of paint can do! The floors were refinished, the kitchen was brought back to life with fresh white painted cabinets, new quartz countertops and a beautiful mini-tile backsplash. The bathroom features a beautiful subway tile shower. Jennye knows exactly how to get the most bang for your buck when preparing a house to sell.  With this home staging, we worked with cool neutral tones.  It was so much fun working on this project and the end result was beautiful! 
1. PRO TIP
Oak cabinets can look outdated turning prospective buyers off. A quick affordable fix that is certain to pay off is painting them white. Bright kitchens are very attractive to prospective buyers! If they walls are dirty or are bright colors; painting can make a huge difference. Colors are personal to individuals, neutral tones are always agreeable and never a turnoff. Check out our article on 5 home staging tips and tricks you should know! We've also got an article on 5 of the most common interior design mistakes to avoid that you might find helpful!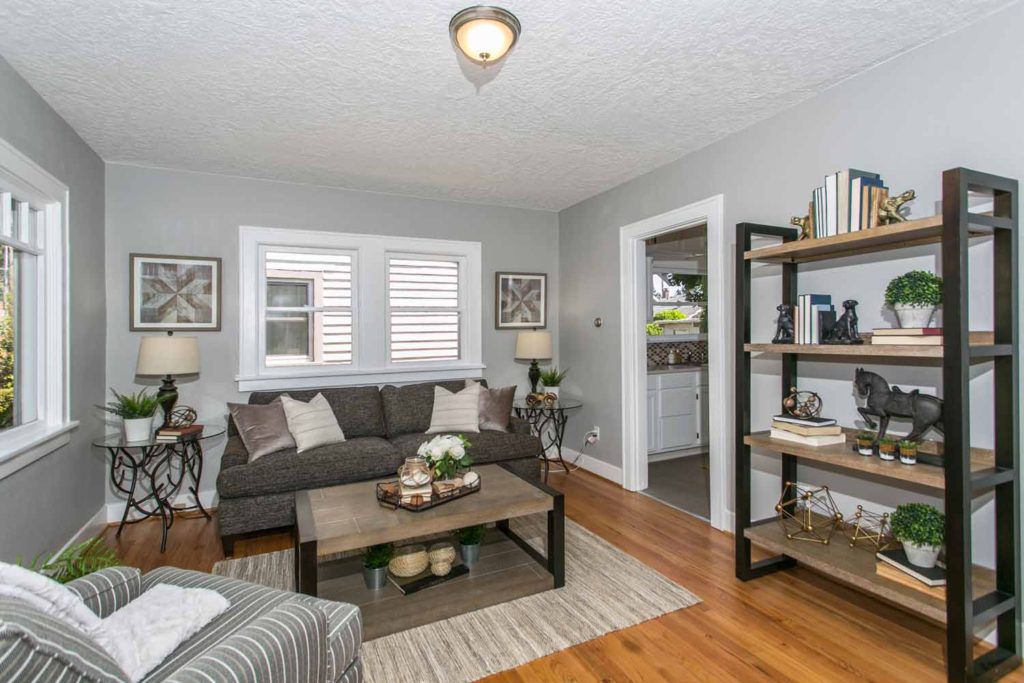 Living Room 
---
It can be hard to create a focal point in small spaces. Upon entering a home, no one wants to be greeted by the back of a sofa.  In this small space, placing the sofa against the wall to create emphasis and flow. The twig side tables and plants add an organic element, while decor groupings placed close together add visual interest. Compliment the light and airy neutral tones on the walls with neutral throw pillows and contrast for a dark sofa. This  makes for a positive flow creating balance and harmony in the space.
2. PRO TIP
Always select your focal point for a space first, building on the space from there. Having your focal point obvious upon entering a space is key. Its an immediate resting place for the eye.  Symmetrical design impacts the subconscious, and we find these spaces more restful and peaceful than asymmetrical ones. Use the focal point of the space as the center of the symmetrical design. Balance the weight by using the same pieces on both sides of your focal point.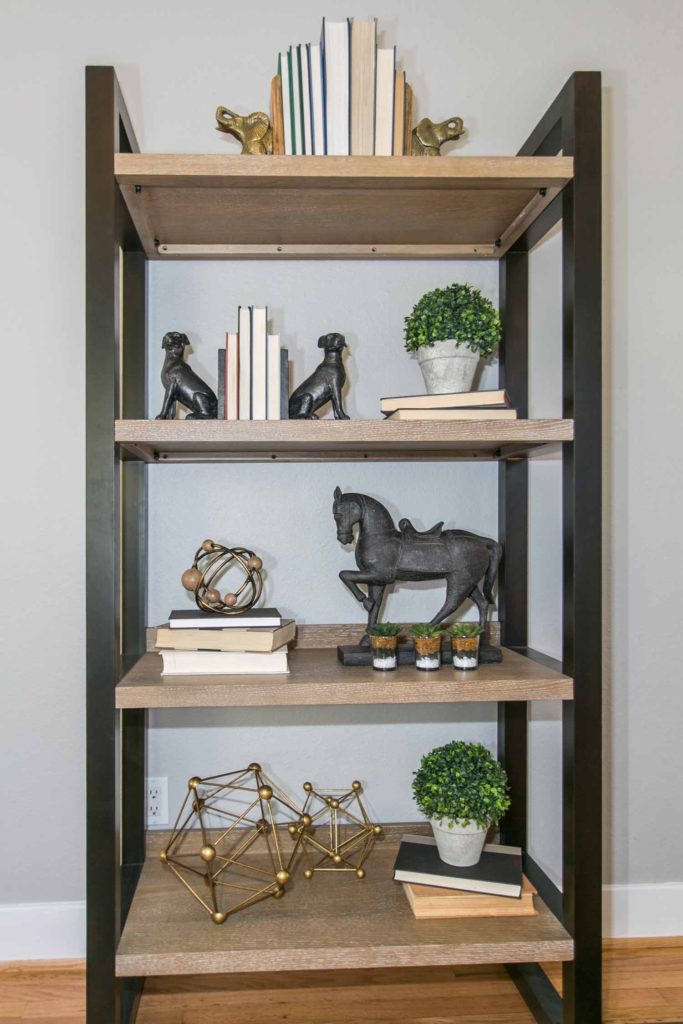 Decorating bookshelves is not always an easy task. They key is not to clutter the space but create simple displays. Use book ends to create a focal point when stacking books vertically. Or flip them on their side and use them as risers to a curious item. 
3. PRO TIP
 According to H. Camille Smith, rather than simply line up items on a bookshelf, create small groupings that combine similar items in different sizes, colors and textures. Use stacks of books to elevate your favorite collectibles and add color. See more helpful tips for decorating bookshelves and mantles here.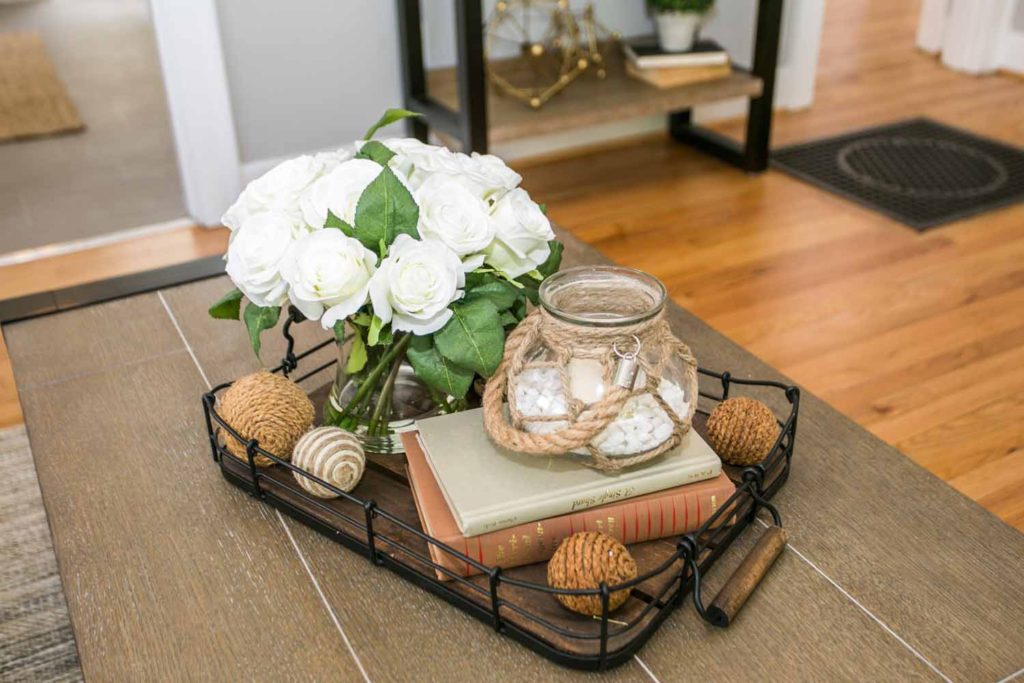 A playful centerpiece for the cocktail table is always a big hit! Using a tray frames the centerpiece. Vary scale of the items placed in the centerpiece to create balance and harmony in making it pop! 
4. PRO TIP
Style your coffee table like a pro. You could create a display of your favorite collection, or use a simple throw over an ottoman. Whatever you choose, minimalism is key for creating balance. Adding a vase and some flowers is always a nice touch. Consider the scale of the items being placed in the space. Use books as risers to create balance with smaller items.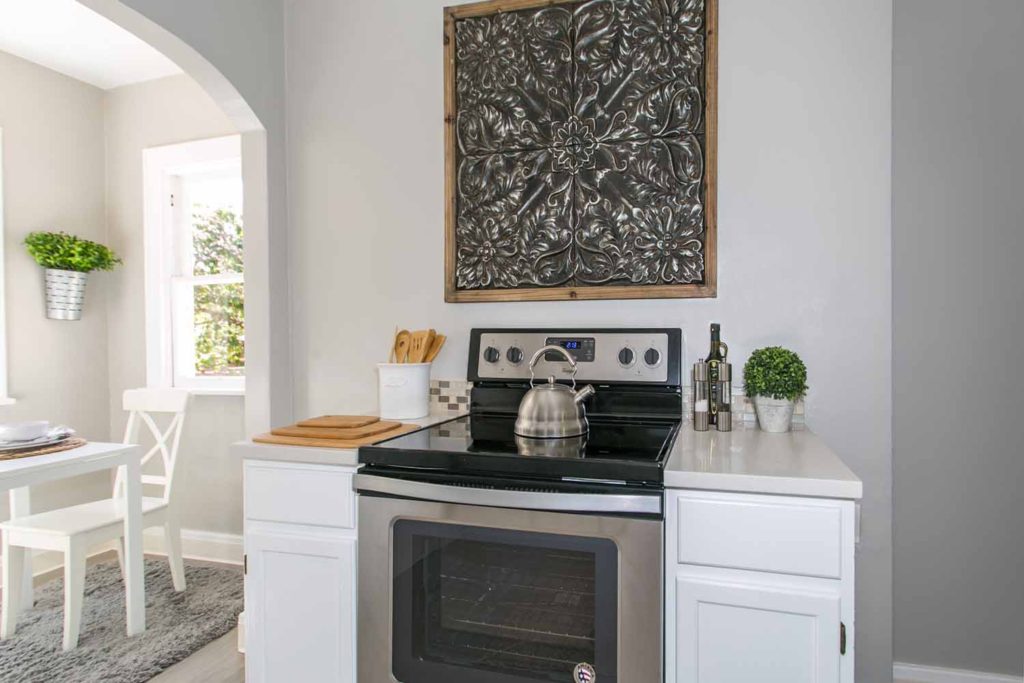 Kitchen 
---
In the kitchen we had a pretty blank canvas above the stove. Fortunately we brought some extra medal wall art that fit perfectly in this awkward space. The scale of the art created a beautiful focal point for the prospective buyers eye.
5. PRO TIP
When considering what to put above your stove you have many options! Think about function first. When we cook oil splashes. We may not see it at first but it builds up. I've seen some grimy microwaves and shelves placed above the stove. Good news! Medal is easy to clean!  Whether you are choosing a rack for cooking utensils or shelves or even the medal farmed art like you see here, consider easy maintenance.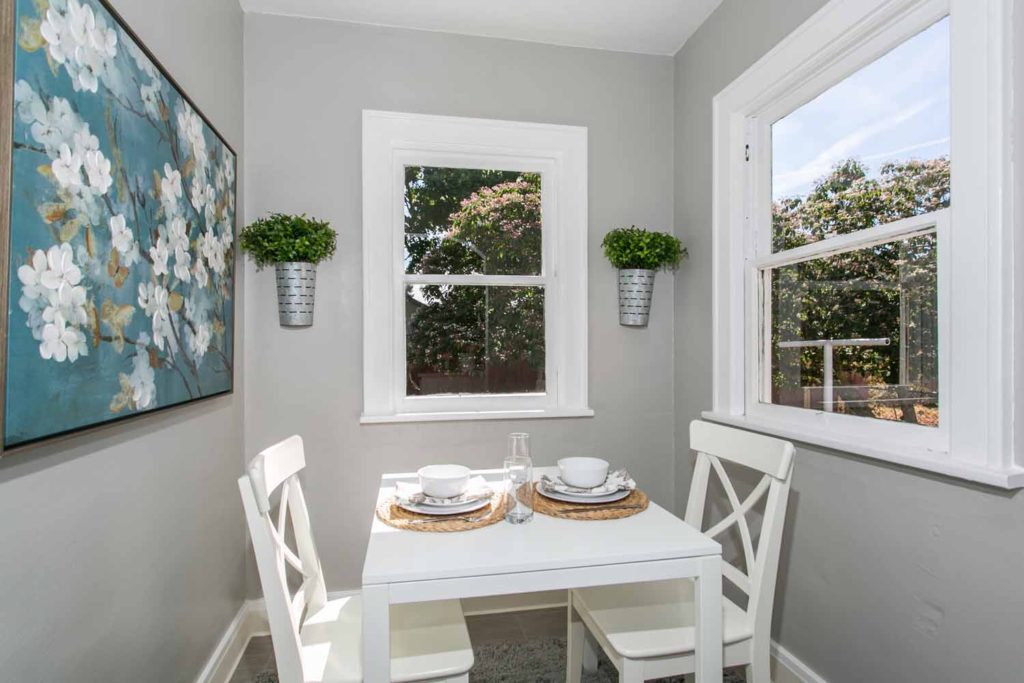 Dining Nook 
---
The dining nook was very small so we had to be careful about what we put in the space in an effort to not overcrowd it. We decided this 29" square table from Ikea was perfect! It was a last minute decision that paid off big time! It fit like a glove in this cozy space! 
6. PRO TIP
A breakfast nook is designed for an intimate meal for 2-4 people. Consider built in benches for storage. Don't overcrowd the space. By creating a cozy breakfast nook in your home, you may be more likely to sit an enjoy your chosen breakfast each morning.
Master Bedroom
---
When deciding how to stage the master bedroom, we wanted to honor the story and flow of the rest of the house. We centered the space with a vintage rug. Added texture into the space with the bedding which became the focal point because it is so beautiful!  We created visual interest with groupings on the nightstands that are on both sides of the bed.  
7. PRO TIP
When preparing your home for sale, simple groupings such as a lamp, some books and a plant can create simple interest. I recommend groupings of odd numbers. Whether thats 1, 3 or 5 it seems to always photograph well. Placing groupings close together photographs well too.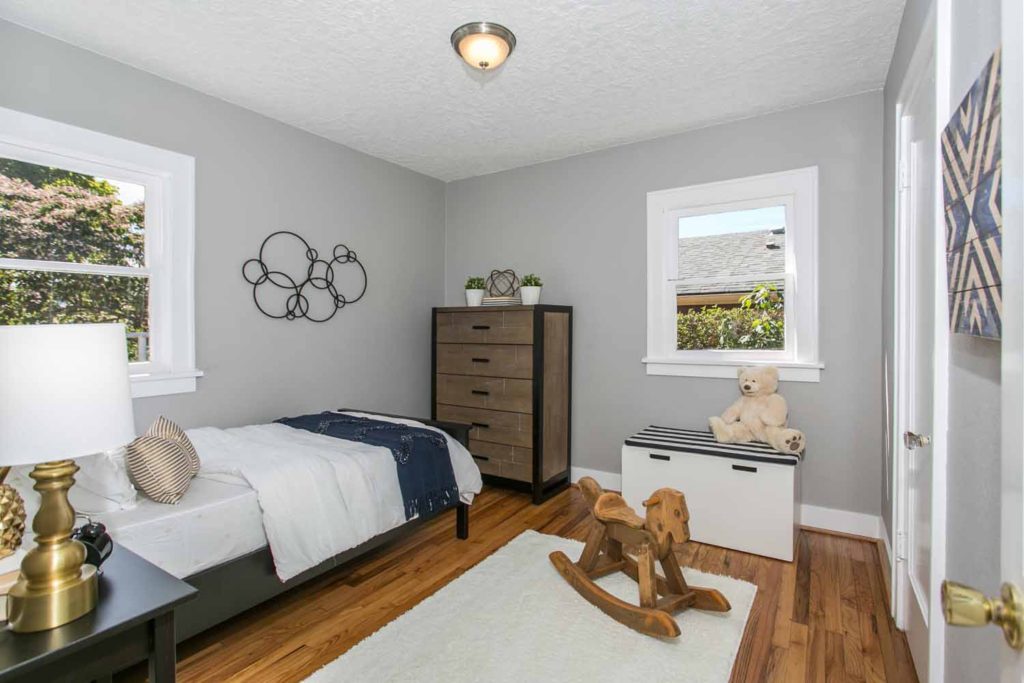 Kids Room
---
In designing the kids room we wanted to feature plenty of playing space. In staging, generally a white rug is ok because prospective buyers usually remove their shoes. In reality, a white rug may not be the best option for a kids room because lets face it, it could get messy! One of my favorite toys to stage with is that wooden rocking chair! Its playful and always sets the stage for a playful room. 
8. PRO TIP
When designing a kids bedroom, consider neutrals that can grow with your child over time. Kids are constantly growing and changing their style. It can be very costly constantly having to re-paint. Bold colors are trendy and often go out of style fast. Instead, choose a neutral tone for the walls and use bold colors with accents such as drapes and bedding. 
VIEW OUR LATEST BLOGS POSTS
Get the latest updates on new & hot trends, tips & tricks and our latest projects! 
Stay up to date on the latest trends and helpful tips & tricks! Best Home Staging Tips to Sell your House Fast Ever tried to list your home on the market to find that months go by and not a single offer came in?  Many have been there and it's difficult when you don't know…
Read More
Stay up to date on the latest trends and helpful tips & tricks!
FOLLOW US ON SOCIAL MEDIA 
Get the latest updates on hot trends, tips and tricks and short stories of our projects!