Home Staging | Colorful SE Bungalow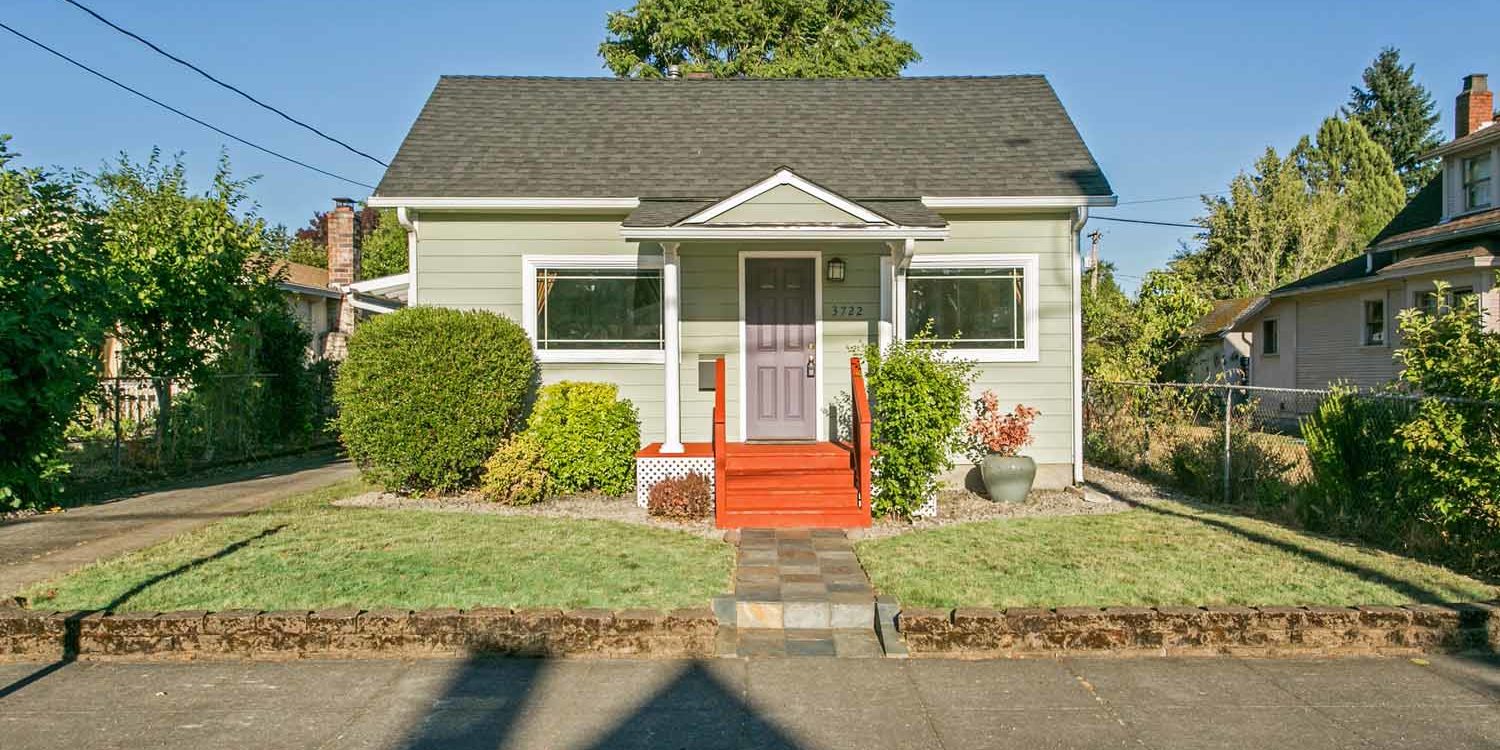 In home staging, every now and then comes a space with a bright and bold style. The very first time we toured this house we couldn't believe the primary color overload! What do you do when painting isn't an option? Rule # 1 in interior design is to honor the architectural elements in the home and that is just what our home stagers did.
Architectural elements are described in the interior design world as the exclusive details and elements that, together, form the architectural style of a house. Essentially, these are the things that can not be moved or changed.
In this home staging, Design Allure planned to honor those architectural elements within the space by complimenting the color of the walls with simple accents.  We didn't want to compete with the walls, we just wanted to to embrace the space and the turnout was fabulous!
Stepping into the foyer on the right we were greeted with an open dining room. The dining room was large so it was a flexible space to work with. The walls are a beautiful Sundance yellow and the windows featured red silk custom drapes the seller generously sold with the house.
We decided to compliment these drapes with these red distressed tolix style dining chairs in an effort to create visual interest. Our home stagers added the sheepskin throws for additional texture. The art work compliments the colors of the Persian rug as well as the colors of the home. When everything came together it was so harmonious.
PROFESSIONAL HOME STAGING TIPS
If your dining room is dark, bring in the light!  If there is at least one wall of windows hang a mirror on the opposite wall to reflect natural light when staging the space.
Placing a pair of tall, skinny lamps on a buffet table with a mirror hung above will make your dining room glow! Note that mirrors can be heavy and with these plaster walls, we didn't want to chance it as we are not the owners of the space.
Check out our article on home staging tips you should know here!
Home stagers set the table with large, carefully chosen pieces for emphasis. We didn't want buyers to be distracted by small details. You want the table to look delightful and abundant, but not crowded.  We added succulents inside the bowls as a special touch with chargers to add additional emphasis and texture.
PROFESSIONAL HOME STAGING TIPS
In home staging, a table setting contributes to the ambience of a meal. Our home stagers understand that setting the table for a staging is different than  setting the table for a meal or a dinner party. The settings are allowed to be a little over the top. Check out our article in 5 interior design mistakes to avoid here.
To the right of the foyer , in the living room we balanced the red drapes by brining in subtle complimentary colors with accent chairs and  decor such as the vase you see above. We used the industrial style shelving units to create an open feeling in the small small space. Recessed can lighting brightens this space so additional lighting was not a priority. The neutral love seat was key in this space.
The burlap rug warms the space while also separating it from the dining room. The bench, sofa and accents chairs show prospective buyers how many people can be hosted at one time in the space.
PROFESSIONAL HOME STAGING TIPS
When staging smaller homes, smaller pieces can create a feeling the space is larger than it is. This is crucial in listing photos because these are prospective buyers first impressions of the home. The key is not to overcrowd the space. Maximizing space is important but don't go too over the top! A cluttered home that you can't move around comfortably in will likely turn perspective buyers off.
In styling the coffee table for a staging its important to keep the display balanced. Nothing makes for a cluttered surface faster than a large collection of small knick-knacks. In contrast, displaying only large items can look excessive and awkward. To keep your coffee table balanced, vary the scale of display items and stack or group like objects together.  Adding organic elements such a floral displays adds visual interest.
With a loving husband and three amazing kids, Irene is committed to serving and supporting fellow community families of all shapes and sizes by helping them realize their home vision with innovation, integrity and passion.
In the bedroom you are greeted with a beautiful dusty rose paint on the walls making this space trendy and bright. The space was small so we staged it with a full size bed in an effort to have a nightstand on each side. The wicker chest offers texture in the space and the artwork compliments the colors of the walls as well as the decor. We complimented the wall color with bedding and throw pillows in a subtle way so as not to lose emphasis or overpower the space with too much pink.
The desk functions as a working desk or a vanity. We decided to leave that up to the imagination of the prospective buyer. We set the stage with simple accents and a black tolix style chair for contrast against the sheepskin rug and result was fresh and balanced.
PROFESSIONAL HOME STAGING TIPS
Warm your bedroom  with an accent rug. It provides contrast while also separating the space from the desk.
When choosing art for your wall, the artwork should be ½ – ¾ the width of the selected space. This is especially true when you are hanging art over a piece of furniture or above a fireplace. Interior designers abide by the principle in an effort to create harmony and balance.
In this purple room we couldn't help but embrace the idea of a girls room! We brought in complimentary bedding with a subtle print for texture and throw pillows for contrast. The turn out was fantastic!
PROFESSIONAL HOME STAGING TIPS
In home staging we must consider our target market. In small two bedrooms houses like this adorable SE Bungalow, it's important to attract the first time homebuyer. First time home buyers often are thinking about or have already started a family. When debating an office or a bedroom, if there are only 2 bedrooms, consider staging a kids room.
Ever aspect of this staging was rewarding once we saw the end result. Design Allure's home stagers transformed this house into a home and it was fabulous! This house sold within 2 weeks on the market. Welcome home to the new homeowners! Thank you so much for reading this blog about our project and feel free to check more out here.
VIEW OUR LATEST BLOGS POSTS
Get the latest updates on new & hot trends, tips & tricks and our latest projects! 
THANKSGIVING DECOR IDEAS Can you believe Thanksgiving is almost here!? If you're like most of us, you know that we are all guilty of last minute planning and decorating for your Thanksgiving Day party, or even a Friendsgiving! In the spirit of the holidays coming up, we put together a little guideline to take the…
Read More
hot Trend Alert: wallpaper Wallpaper has made a huge comeback in the last few years and has essentially made painted accent walls irrelevant in the design industry.  Now it's all about incorporating texture in clean and sleek ways and wallpaper does just that.  We are going to show you some of our favorites to choose…
Read More
THEME OF THE WEEK: LAUNDRY ROOM IDEAS Doing laundry-you either love it or you hate it…well, let's get real, we all hate it. But, that doesn't mean we need to hate the laundry room. As explained in our last blog post, the function of a room is significant, but that doesn't mean you can't get…
Read More
THEME OF THE WEEK: ENTRYWAY IDEAS An entryway should be three things: chic, comfortable, and most importantly, inviting. The entry way sets the tone for the entire house, so naturally, you want your guests to feel at home, but also feel as if they are entering a staged home! Today, we have a few tips…
Read More
Address: 5758 N. Moore Ave Portland, OR 97217 Realtor: Kolin Better, O'donnell Group Realty  the historic dollhouse This home staging took place in a sweet + quaint North Portland neighborhood. Because this home was built in the 1800's and had all of the original trim, we went with a look that brought out the true…
Read More
Theme of the Week: Bathroom Ideas Ah, the bathroom…the room where you go to escape, relax, and mostly, just take care of you. Although this room was originally created for function, we all get tired of walking into a dated + mundane atmosphere when we just want decompression time. Today, we have a few bathroom…
Read More
Sold: In 2 Days for Asking Price Address: 340 Ridgeway Road, Lake Oswego, OR 97034 Realtor: Alex Phan, Phan Hall Property Group, Keller Williams Realty Professionals LAKE HOUSE DREAMS In this luxury home staging we worked with some existing pieces  staying in the home while listing and advised on the rest that should be removed removed…
Read More
This is a very great question to ask, especially if you haven't worked with an interior designer before. You may be asking questions like, is any project too small?(NO) Or is it going to be worth it for me? In order to determine that we have prepared 7 valid reasons for knowing when it's time…
Read More
IMAGE SOURCE If you're at a crossroads with the dilemma as to whether or not it will be a good investment in hiring an interior designer, you've come to the right place. You may have already written out a pro and cons list that looks somewhat like this. PRO'S An interior designer understands the principles…
Read More
When it comes to recreating our interiors, it can be difficult to pinpoint exactly one style you're most attracted to.  Especially when there is so much inspiration out there! I mean seriously, try to Pinterest living room inspiration. The overwhelming amount of different options to choose from can leave us feeling bewildered and confused. Have…
Read More
Stay up to date on the latest trends and helpful tips & tricks!
FOLLOW US ON SOCIAL MEDIA 
Get the latest updates on hot trends, tips and tricks and short stories of our projects!