5 HOME STAGING TIPS & TRICKS YOU SHOULD KNOW
Stay up to date on the latest trends and helpful tips & tricks!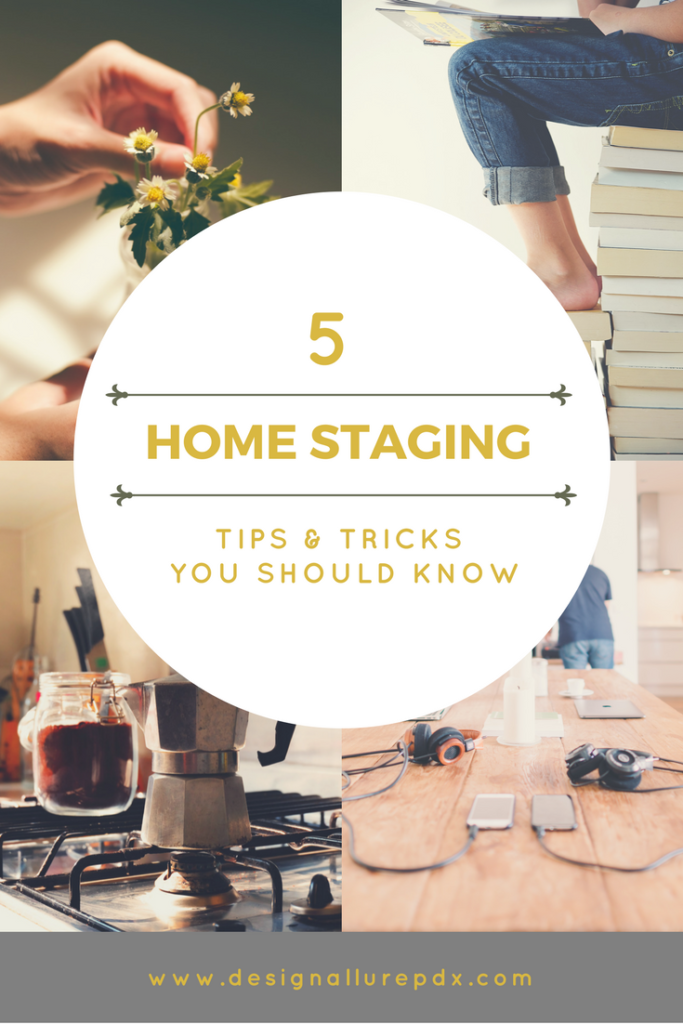 5 HOME STAGING TIPS & TRICKS YOU SHOULD KNOW
Highlight your homes best features and guarantee a pool of prospective buyers with these helpful home staging tips!
---
This newly remodeled home has character and beauty all wrapped up in the best neighborhood along side some of the best schools for your kids! In this home staging project we wanted to highlight a functional layout that inspires prospective buyers. It can be very hard to visualize a space. Many people need to see it to believe it! Well, people saw it and the very first weekend of hosting open houses; offers came pouring in!
See more of our projects here!
Alex Phan from Phan Hall Property Group specializes in making the dream of home ownership a reality for more buyers and sellers in our area; they are focused on customer service skills and extensive market knowledge to provide the full real estate experience! When you hire Phan Hall, you're not just hiring a Realtor - you're hiring a full team of real estate and marketing professionals to work for you! For more tips on design mistakes to avoid when prepping your home for sale check out this article.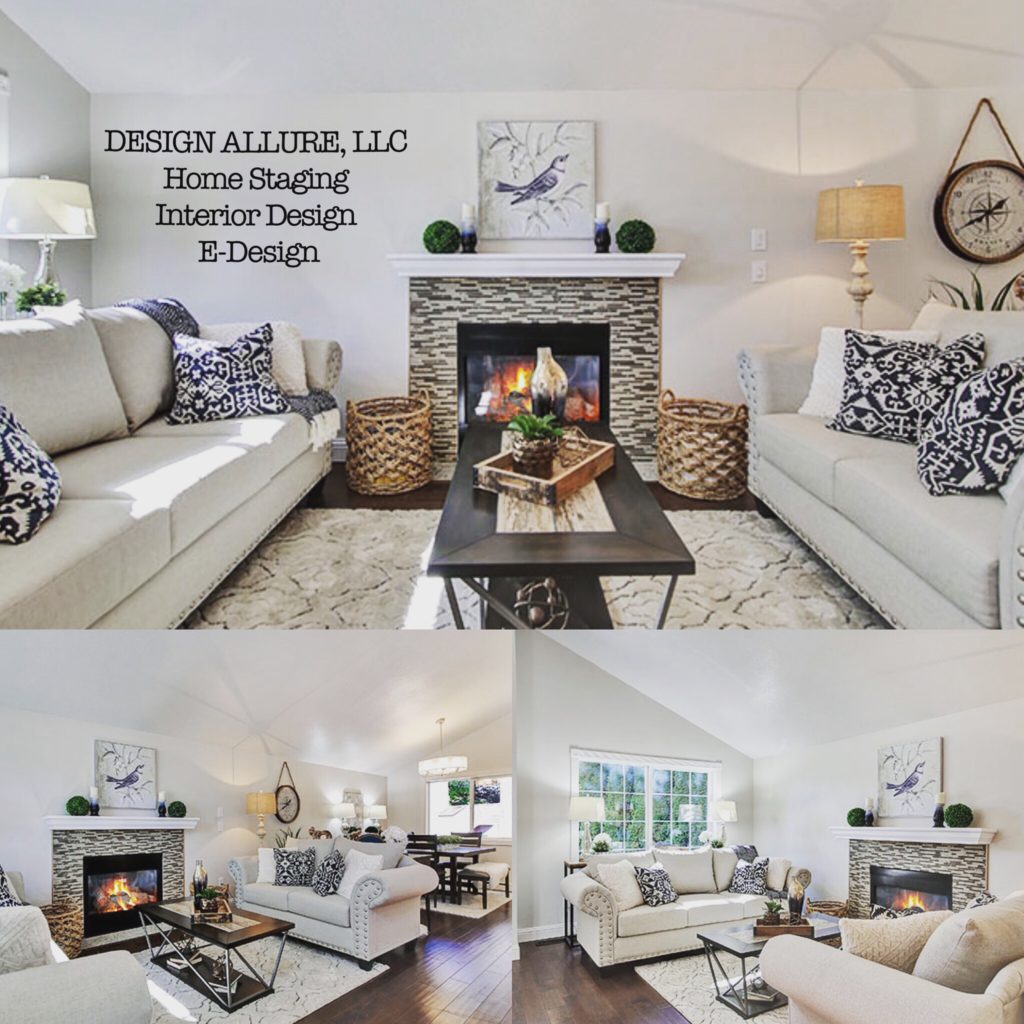 LIVING ROOM
---
In the living room we really wanted to keep things clean and chic. The nailhead trim on the sofas offer the feeling of elegance and luxury. The room was very narrow and it was hard for perspective buyers to visualize the space beyond what they could see in front of them. We broke the room up into 3 functional spaces. Behind the love seat you can find a desk area. Beyond that would be the formal dining space.
1. PRO TIP: In home staging, its important for each space to have a focal point. Pick your focal point and design around that. In this space the obvious focal point is the beautiful fireplace! Check out our article on the principles and elements of interior design for more advice when making selections for your space. 
Need help staging your home for a top dollar sale? Contact Design Allure today for a consultation! Whether you have a vacant home or are currently occupying your home, Design Allure can help!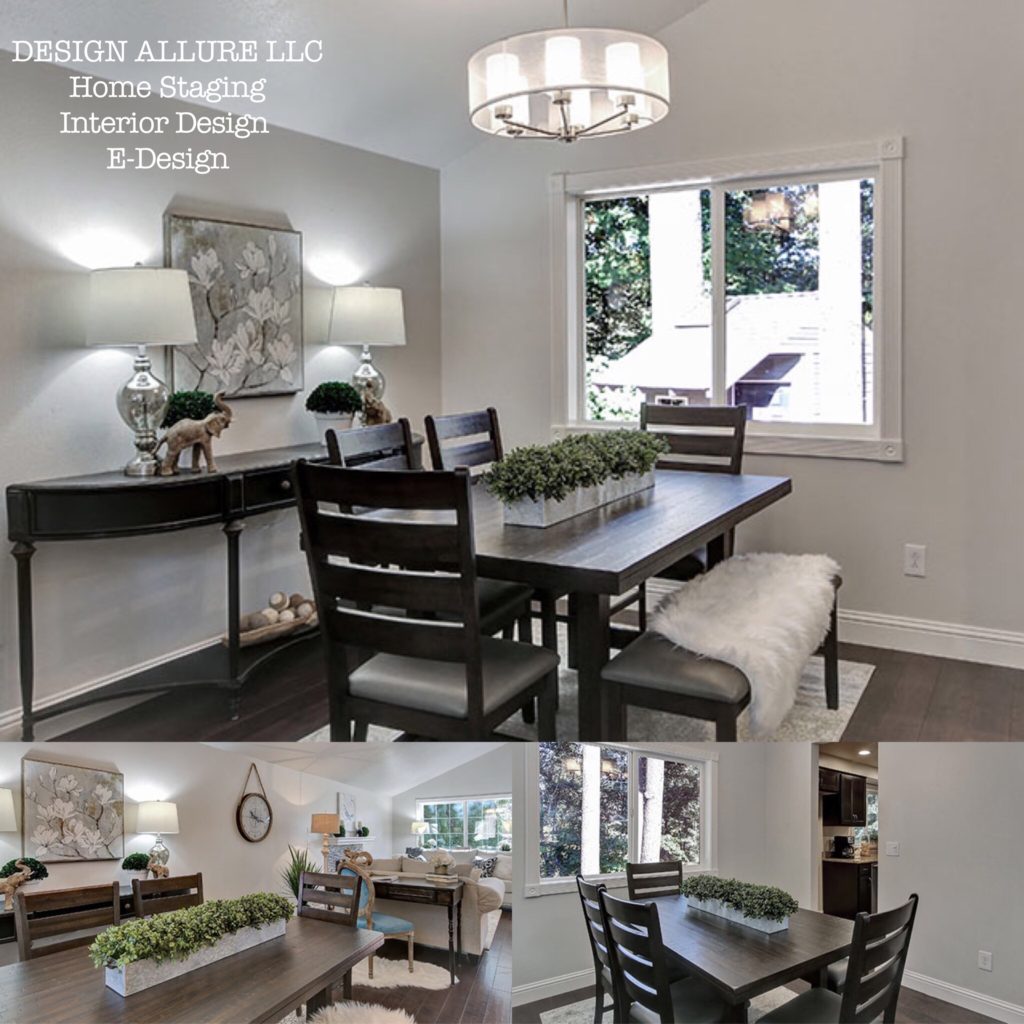 DINING ROOM
---
In this space the console table become the perfect space for a focal point. The light area rug creates contrast against the dark finish of the dining table. The sheepskin rug creates texture and balance.
2. PRO TIP: Adding texture is key in creating balance in the space. A room can have all of the right colors, and furniture but without texture is could still seem off balance. Whether you apply texture through a rug, accent pillows or plants, it's key to a successful design.
Learn more about our Home Staging services here!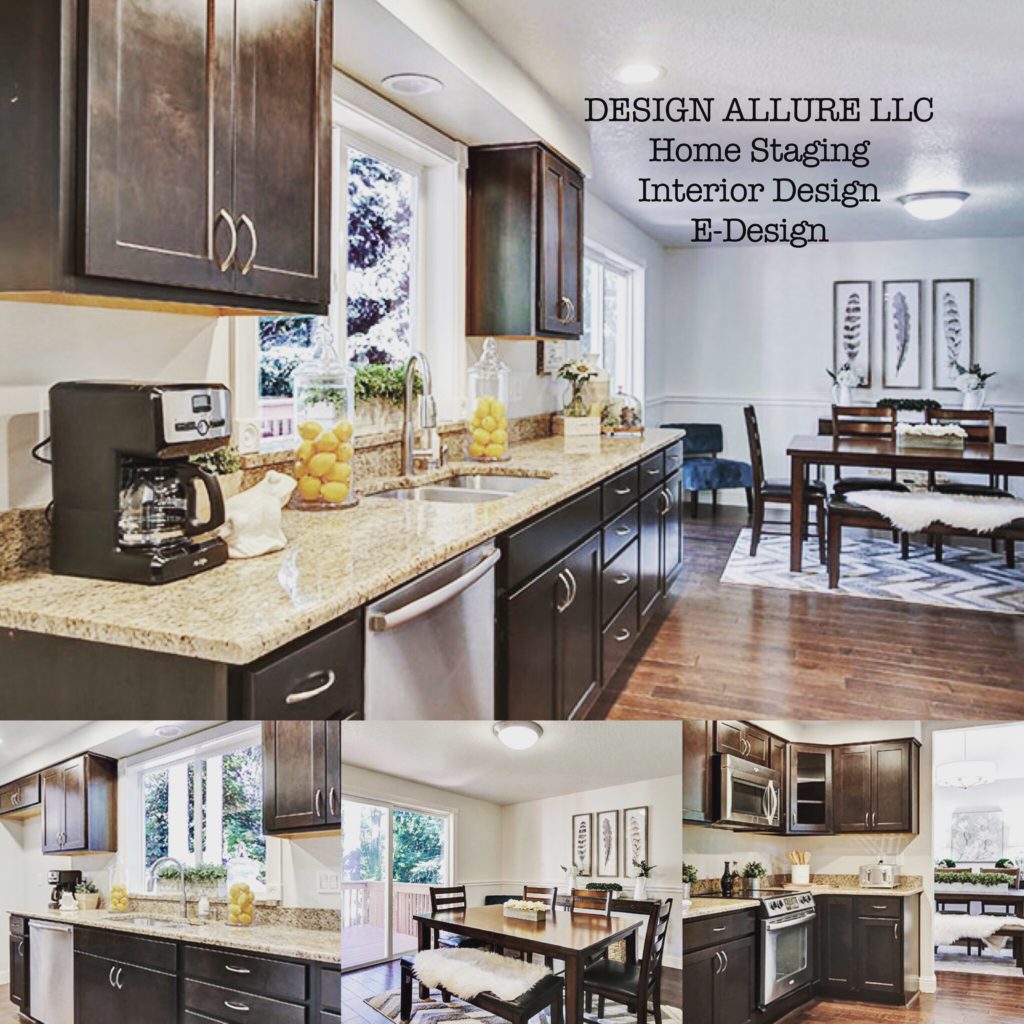 KITCHEN
---
We staged this beautiful kitchen with simple accents and small appliances. Some may not agree with having appliances out. I think it is necessary in order to showcase the potential layout for prospective buyers.
3. PRO TIP: Clear all of the counters when staging your home and leave only decorative accents and small appliances like a toaster and coffee maker. Its important that these are cleaned and showcase well and there aren't too many! You want to show off the available counter space.  Use glass jars and lemons to add a pop of color!
Learn more about Design Allure's interior design, home staging and E-design services here.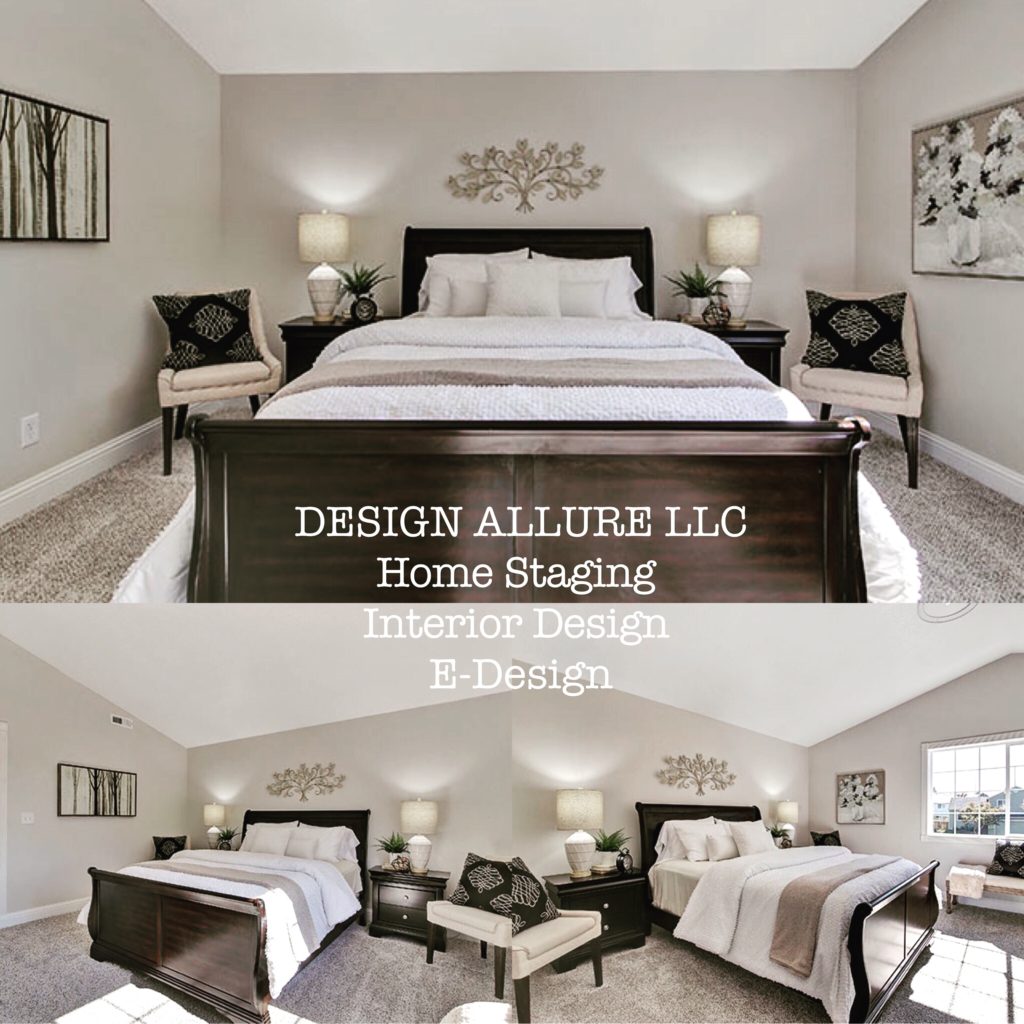 MASTER BEDROOM
---
In this large Master bedroom new wanted to showcase a traditional bedroom set. We added additional contrast and texture by adding the side chairs and pillows. Without these side chairs that room may have felt too empty or off-balance.
4. PRO TIP: Accent chairs and benches are perfect filler pieces for empty and awkward spaces!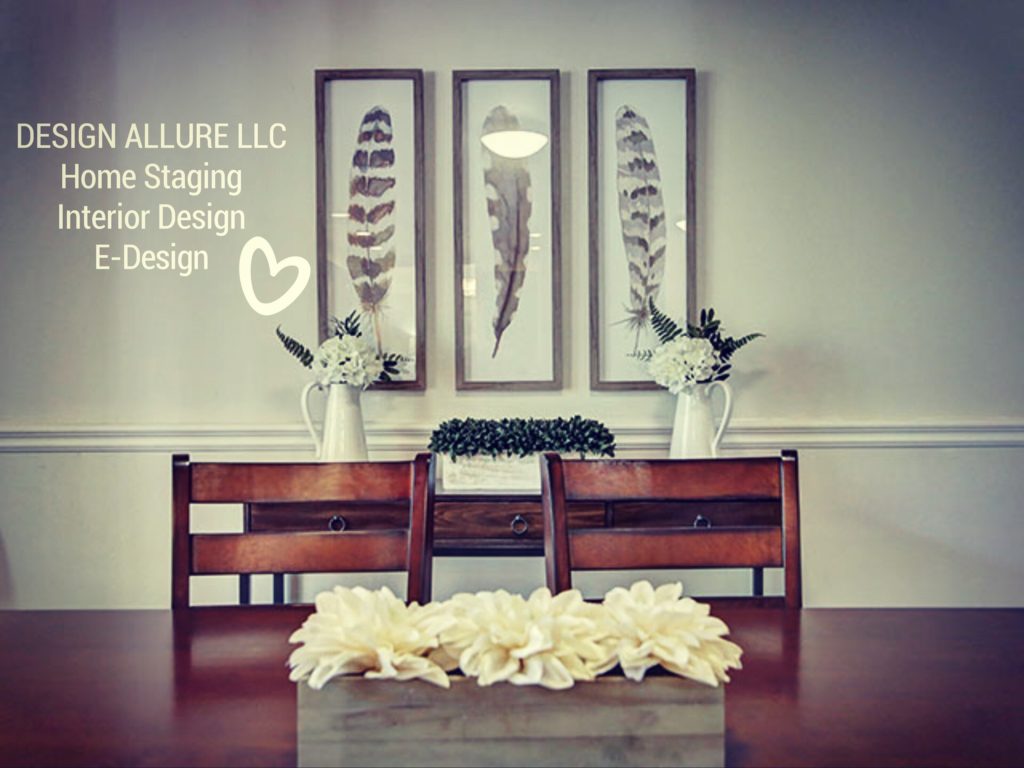 Remember, when creating spaces, choose your focal point! It's very important to have this! In home staging we want to highlight the key features in a home and landing place for the viewers eye!
5. PRO TIP: When choosing accents; creating a variety of accents with different shapes and heights creates balance! Don't you just love this fireplace!?! So cozy!
Check out some of our other latest projects here. 
VIEW OUR LATEST BLOGS POSTS
Get the latest updates on new & hot trends, tips & tricks and our latest projects! 
Stay up to date on the latest trends and helpful tips & tricks! Best Home Staging Tips to Sell your House Fast Ever tried to list your home on the market to find that months go by and not a single offer came in?  Many have been there and it's difficult when you don't know…
Read More
Stay up to date on the latest trends and helpful tips & tricks!
FOLLOW US ON SOCIAL MEDIA 
Get the latest updates on hot trends, tips and tricks and short stories of our projects!