YOUR GUIDE TO FALL DECORATING
Stay up to date on the latest trends and helpful tips & tricks!

Interior Design, Fall Design, Home Staging, Holiday staging, Design Allure, LLC . - Blog - Your Guide to Fall Decorating
YOUR GUIDE TO FALL DECORATING 
10 Tips to Embracing the Seasons Changing Indoors
---
With the seasons changing you may have noticed that its beginning to feel like fall. Football season is here, temperatures are cooling and leaves are starting to change. If you've been to the store, you've probably noticed considerable amounts of fall décor filling the shelves. Que the champagne pop because it's time to start transitioning from summer to fall décor and it doesn't have to be difficult! Here are some tips and tricks to embrace fall within your home and on a budget.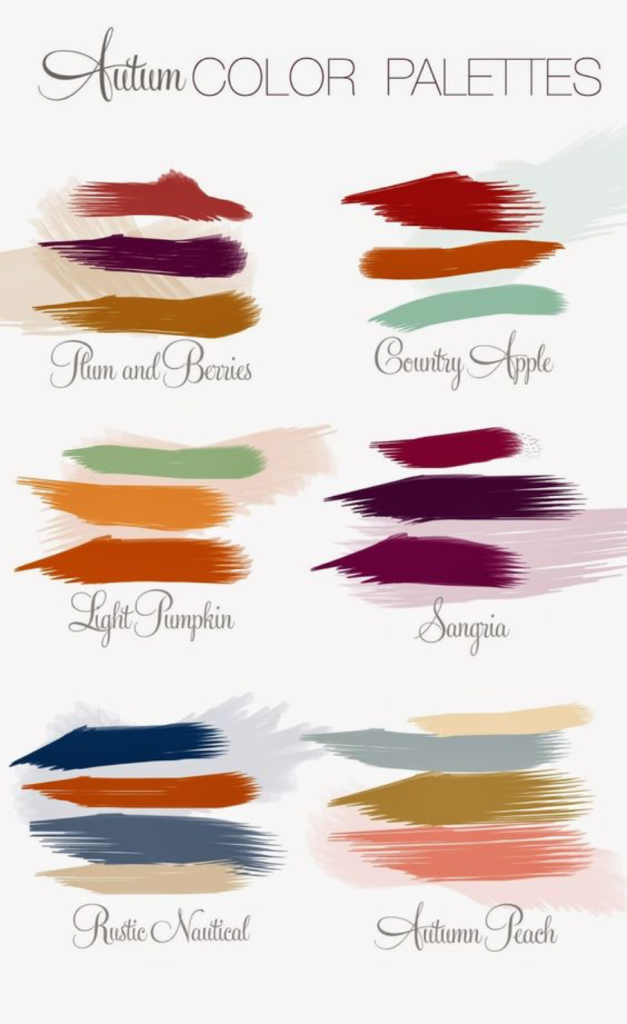 1. Autum Colors
---
Not sure how to rock your color scheme for your fall décor? The Autumn leaf contains the ultimate guide to inspire you! With varying hues of red, yellow, orange, purple, green, black, pink, magenta, blue and brown; you're sure to find a variety that creates harmony and interest in your home. For a neutral farm fresh look, stick with greens, white, black, silver and golds.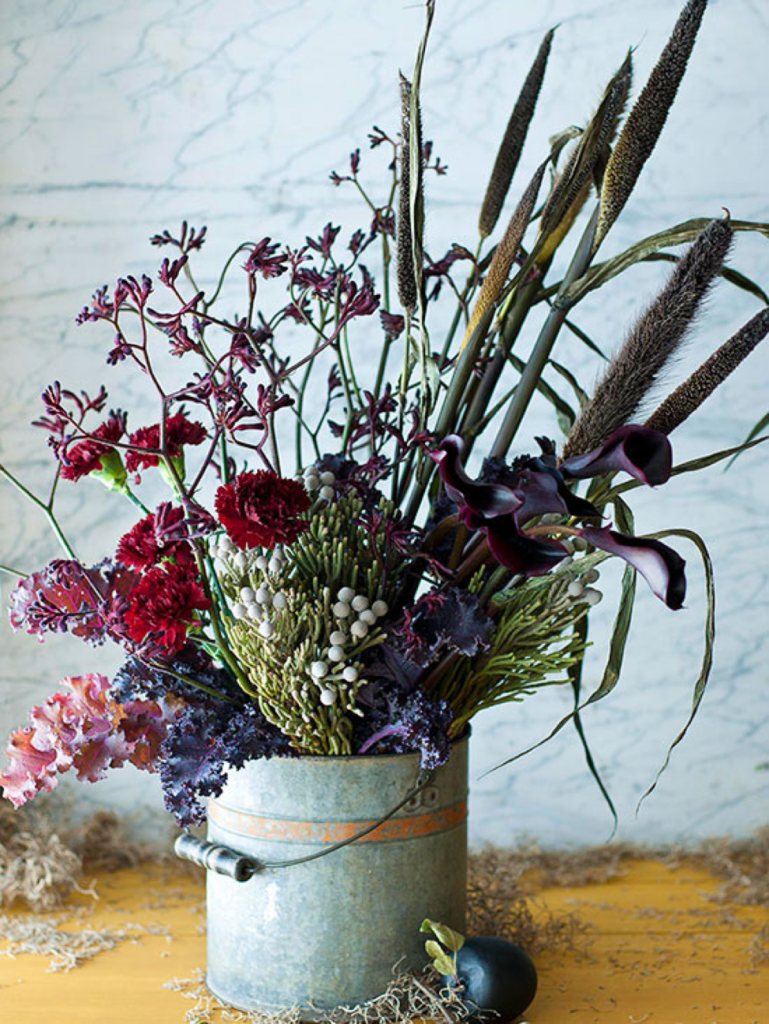 2. Stay Local 
---
Embrace the changing seasons and take a step outside. Can you see the treasure? Embrace the broken tree branches, bark, acorns, flowers and leaves. Or head to your local farmers market for fresh cut flowers, fruit and herbs that bring the harvest magic in. Fill glass containers or galvanized buckets to create centerpieces, and bouquets.  Don't hesitate to be eclectic with your fall displays.  A variety of flowers, stems and fillers such as twigs add more dimension to this organic look! Add a little glam to twigs with gold spray paint and loose glitter.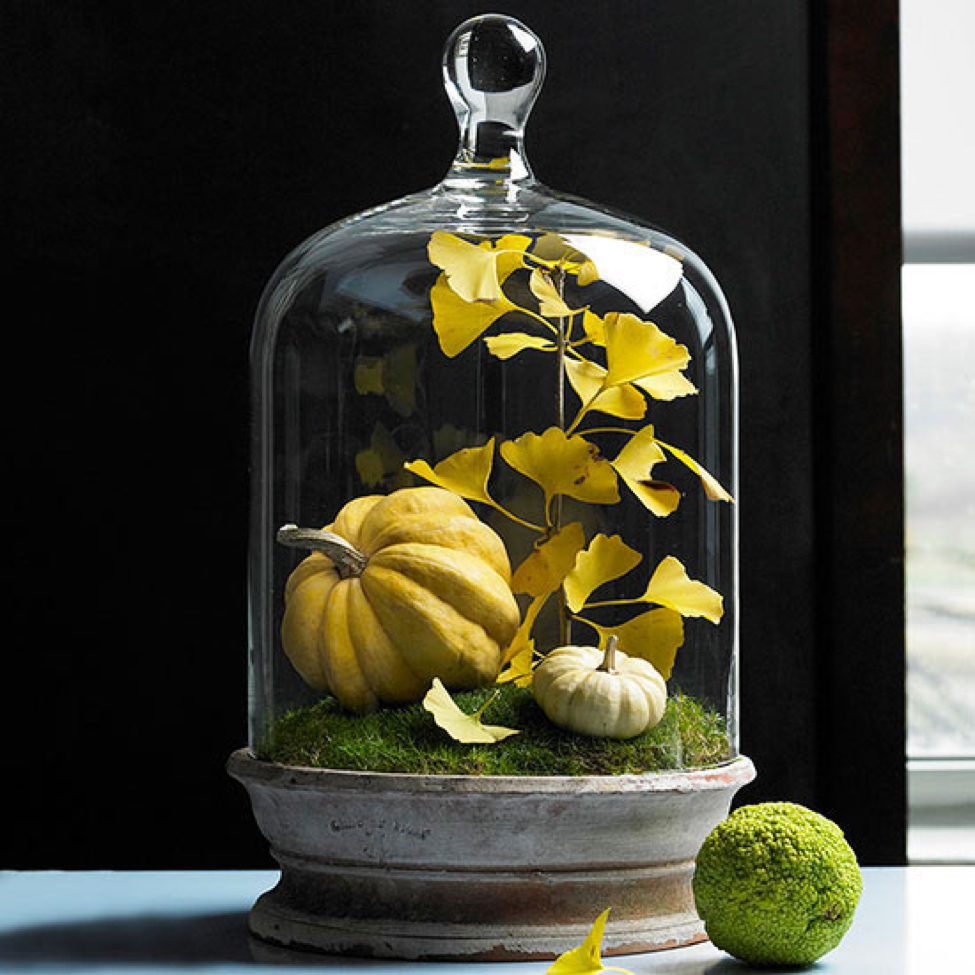 3. Organic Bliss
---
Capture fall inside a glass dome! Use a cake stands for your base. Line the dish with moss, add a few branches with leaves, some gourds and bam! You've got a beautiful focal point with unexpected beauty!
4. Pumpkin Ecstasy
---
Bringing in fall shape and texture doesn't limit you to just fall colors. While groupings of pumpkins with varying shapes and sizes is a classic, it can start to feel off-balanced with too much orange. Add a touch of glam and spray paint them gold. Or, one of my favorites, stay neutral and stick with varying white pumpkins. Adding greenery beneath your display adds additional interest and balance.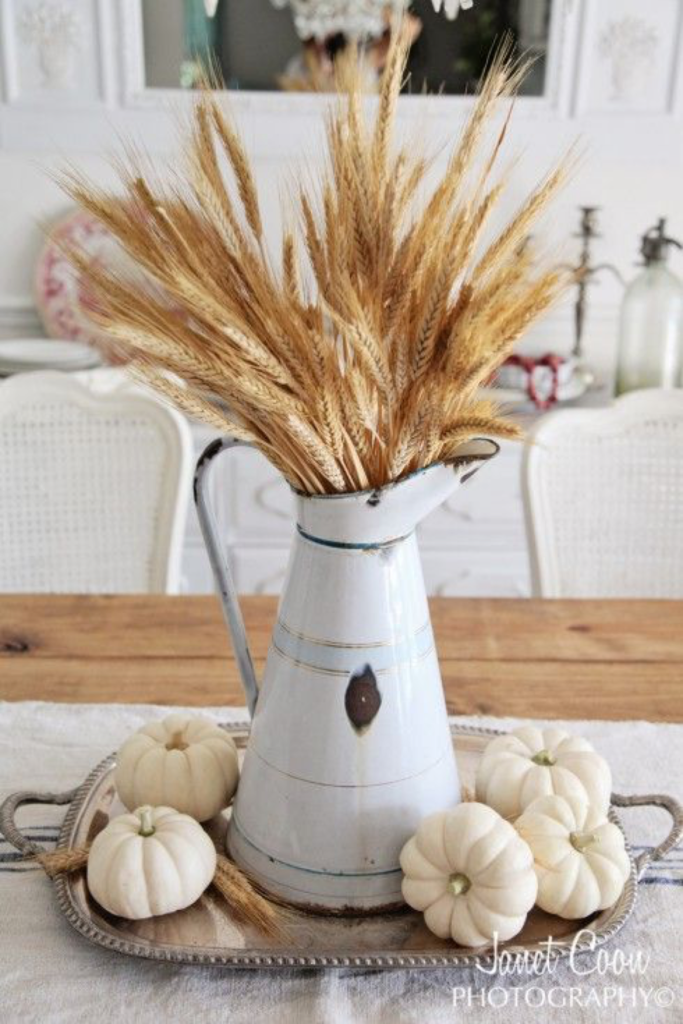 5. Tabletop Décor
---
A centerpiece is the perfect way to set the stage for your dining table! Neutral centerpieces are a big hit this year! Embrace the look with varying sizes of white pumpkins, gourds, a touch greenery, straw and rustic dish for the perfect centerpiece.  Add even more creative glam by draping a garland across the table for a truly unique look!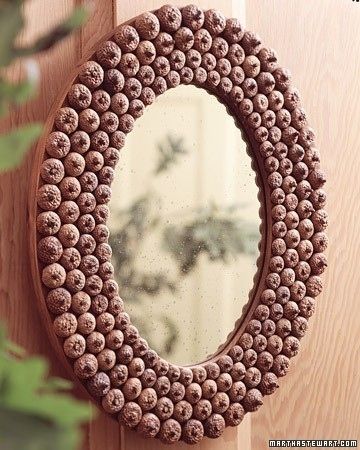 6. Acorn Bliss
---
Find a simple mirror at home goods or the thrift store.  Hot glue acorns for some fall glam. It adds texture and lines that create visual interest.  It's a fun project to work on with the kids!
7. Sequential Arrangements
---
Set the stage with popcorn kernels. This one is cheap and fun! Take a glass cylinder vase, fill it with popcorn kernels, set a candle on top and wrap the vase with twine! Create 3 of these gorgeous accents and set them on a fitting tray, add additional accents such as straw, sticks or greenery.  Vary the size of pumpkins around it and you've got yourself a perfect center piece! You could even wrap candles with cinnamon sticks and place them on a tray with walnuts to create another unique display. Pro tip: Spray paint a few of the walnuts green and create more dimension and variety with this display.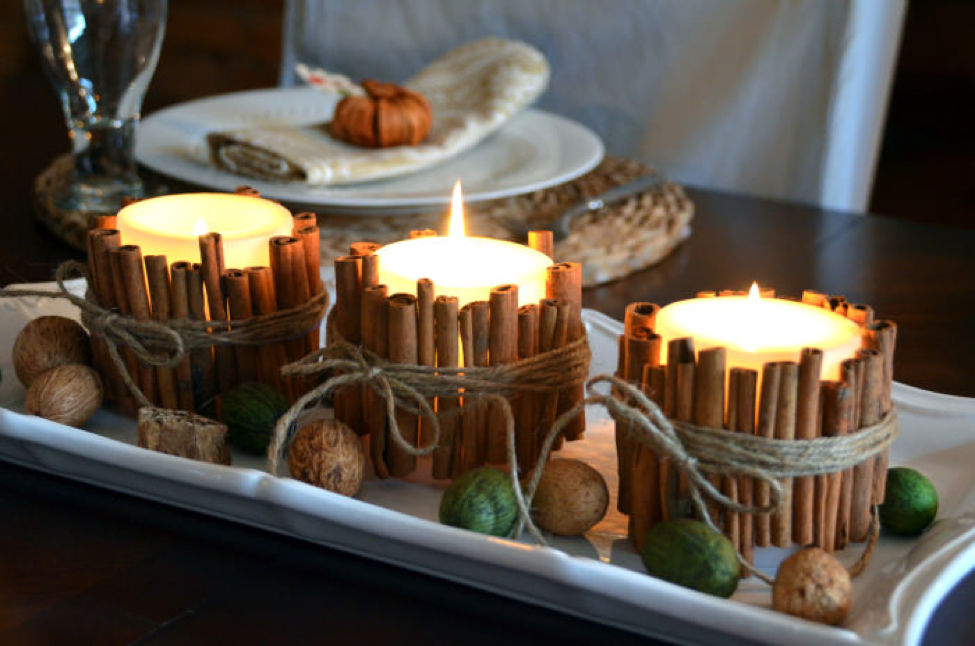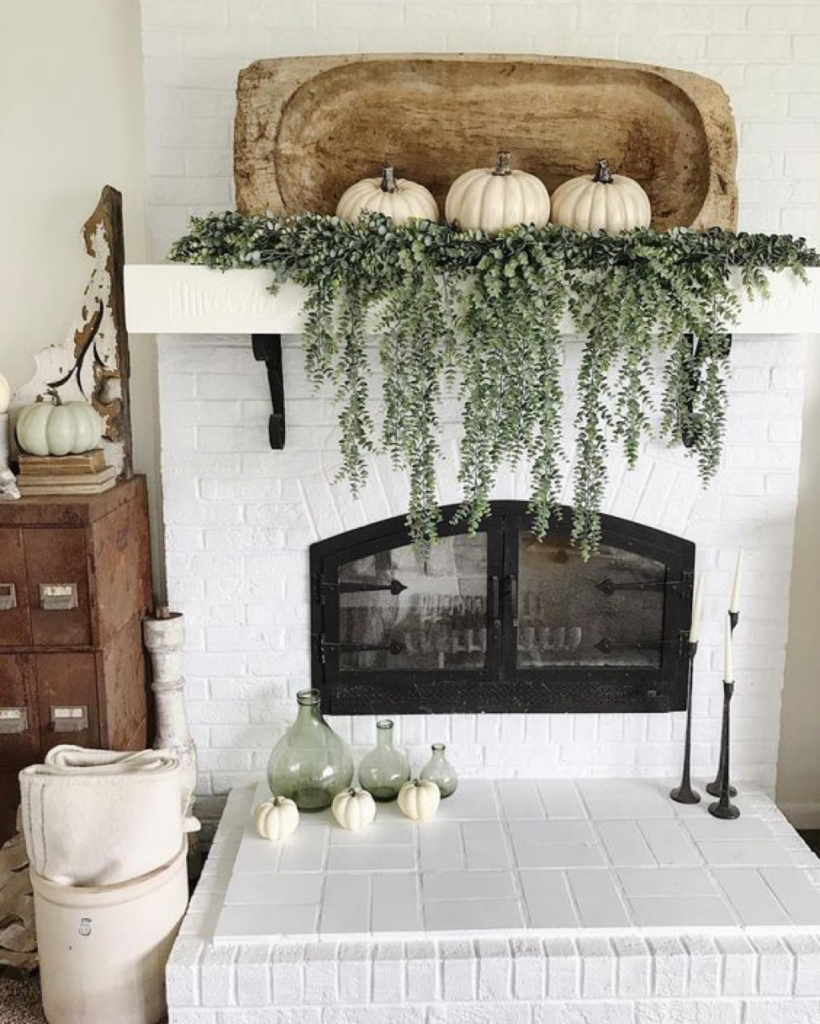 8. DIY Garlands
---
Get this look by following these simple steps to creating your own garland. Start by cutting your greenery into 8 inch pieces and separating these into piles with 3-5 stems for a simple assembly process. Wrap the ends of the stems with green garden wire 4-5 times or until secure. Wrap again 4-5 times with wire twine. Do not cut the wire. Place the 2nd bunch of greenery about 2 inches down. Make sure to cover the stems of the previous bunch. Do not cut the wire or twine until your garland is complete.  Be sure to wrap the final bunch the oppose way and hide the stems by tucking them into the leaves of the previous bunch. Now you can cut the wires! Be sure to leave enough wire on each end for hanging. Drape the garland across your table top, fireplace mantle, or doorway. Add additional interest with pumpkins.  Finally, admire your efforts and enjoy the fall season with this beautiful look!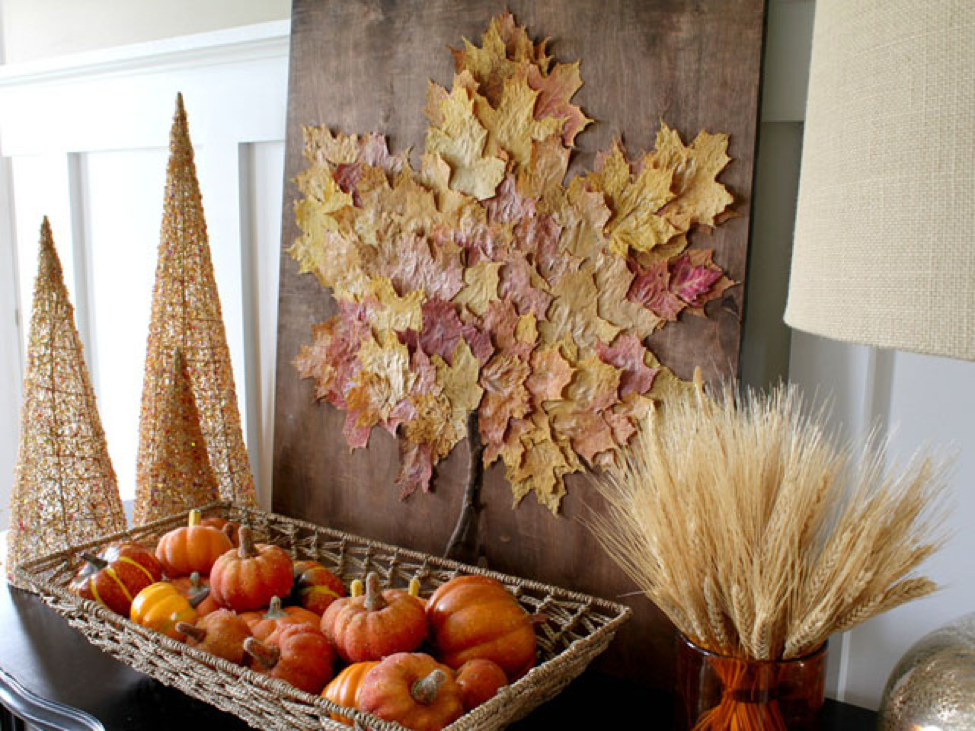 9. DIY Fall Art
---
There are many Fall prints out there available for free download. Print a few and create a beautiful wall display! Printing on newspaper is a cute way to add texture and interest to your display. Or get creative with a large wood plank like you see here. Go neutral by spray painting the leaves gold. Or even a combination of white and gold.  Add greenery into your basket with a mix of white and gold pumpkins in varying sizes on top. Finally, use a clear vase for the straw and wrap it with twine. This project is a simple and gorgeous way to create a bold focal point!
10. Don't forget the Exterior!
---
Bring the traditional fall colors used within your home to your front porch. Set the tone and feeling you want to evoke as you and your guests walk into the space. Use white mums, heirloom pumpkins, lanterns and some hay stacks to create depth and dimension like you see here!
There you have it! With these tips and tricks, you're bound to create a beautiful fall setting within your home!  Thank you so much for reading this blog!
Check out our related articles on home staging tips and tricks you should know as well as 5 interior design mistakes to avoid.
VIEW OUR LATEST BLOGS POSTS
Get the latest updates on new & hot trends, tips & tricks and our latest projects! 
Stay up to date on the latest trends and helpful tips & tricks! Best Home Staging Tips to Sell your House Fast Ever tried to list your home on the market to find that months go by and not a single offer came in?  Many have been there and it's difficult when you don't know…
Read More
Stay up to date on the latest trends and helpful tips & tricks!
FOLLOW US ON SOCIAL MEDIA 
Get the latest updates on hot trends, tips and tricks and short stories of our projects!